Lipcons at Stuyvesant High School
Samuel Lipcon's Diploma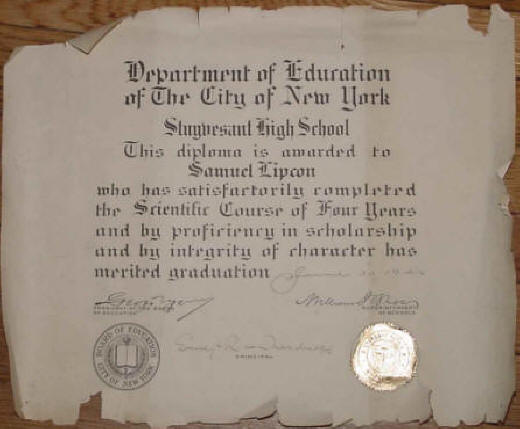 "Hooked" by Jules Lipcon '35
My strongest memories of my days at Stuyvesant are about the principal, Dr. Von Nardroff. Not that I had any personal association with him. What lies vividly in my memories are the semi-annual science demonstrations he put on in the auditorium for the entire student body. Dr. Von Nardroff moonlighted as a physics professor at Columbia University and was well-qualified for what he did. These were no ordinary lectures. They were theater; exciting and informative. Their purpose was to get you ?hooked? on science. He succeeded beyond all expectations.

I recall one lecture on the colloidal properties of liquids. He closed by having a cauldron of molten metal brought forth from the foundry shop. After dipping his arm in some sort of liquid, he passed it through the poured stream of red hot metal.

Another lecture was on astronomy. A pendulum was suspended from the auditorium ceiling. It swung over a smoked glass plate that was projected on a screen. You literally saw the earth turning.

With that kind of exposure, how could anyone leave Stuyvesant not being ?hooked? on science?
"After Graduation"... by Jules Lipcon '35
I was the youngest of four siblings, the children of immigrant Jewish parents, growing up during the depression. I took a year off after Stuyvesant and then went to NYU for a degree in Mechanical Engineering.

I was drafted soon after graduating. Having a degree, I was assigned to the Ordnance Corps. I went to Officer's Training and was assigned as an instructor in training artillery mechanics. In early 1943 I was already a captain and was given command of an Ordnance Heavy Maintenance Co. We did very sophisticated maintenance of artillery, small arms, instruments, and all types of tracked and wheeled vehicles from tanks to jeeps. We were assigned to the First Army and went with the army from Normandy to Germany. I was discharged in early 1946 with the rank of Major. I used the G.I. Bill to obtain a master's degree in Industrial Engineering at NYU.

I spent my entire career at Maidenform Inc., rising to V.P. of Engineering. I was responsible for the I.E. department and also for machine development and factory and machinery maintenance. I retired in 1988. I have been retired for 15 years. I just passed my 85th birthday. The reason I retired so late in life is that we put two daughters through medical school, an achievement I am proud of. I have filled my retirement with writing, lots of culture, travel and much time spent out doors. I quit downhill skiing two years ago at age 83. I hope I haven't bored you.
An Addition, by Jules Lipcon
One other addition to the Lipcon Website I would suggest is the fact that Stuyvesant H.S. is very closely associated with the Lipcon Name. We three brothers went to this H.S. that required an entrance exam and which has always been at the top academically.

When the people running the anniversary book asked me why there was a big gap between the graduation dates of my brothers and myself, I told them that there was a sister in between, and that Stuyvesant didn't admid women in those days. And, let's not forget Rachel, who graduated 60 years after her grandpa.